Transitioning from UA to GA4
It's no secret that Google Analytics (UA) is the most widely used analytics tool for tracking website performance. But come July 1, 2023, UA will be discontinued and website owners will be forced to use Google Analytics 4 (GA4). This is no shocker to those of us who have received many email updates and seen many warnings about the inevitable switch, but time is ticking!
With GA4, businesses have access to more comprehensive data than ever before. The new version offers features such as Enhanced Measurement, which allows users to track customer behavior across multiple devices and sessions.
Why The Switch?
Experts in the digital marketing field are divided over Google's announcement to discontinue Google Analytics in 2023. The sudden switch has left many people scratching their heads, wondering why Google is making this move.
GA4 represents Google's shift toward a "privacy-first" approach to cross-channel data tracking. With GA4, businesses can track user interactions across all devices, gain better control over data collection and privacy settings, and view a deeper analysis of customer behavior.
Change Can Be Scary
Although this all sounds promising on paper, many have yet to fully utilize GA4. According to a recent poll conducted by Carrie Hill, only 26% of users are taking advantage of the data collected in GA4 (as of Jan 2023).
At Boom Visibility, many of our marketing clients receive monthly reports that contain Universal Analytics and a health check focusing on technical issues. Some clients also receive a rankings report from SEMRush. We were aware that Google's discontinuation of Google Analytics was going to cause a disruption to our monthly reports so we planned to stay ahead of the curve by utilizing Looker Studio for some east-to-digest reports.
Leveraging Looker Studio for Custom Reporting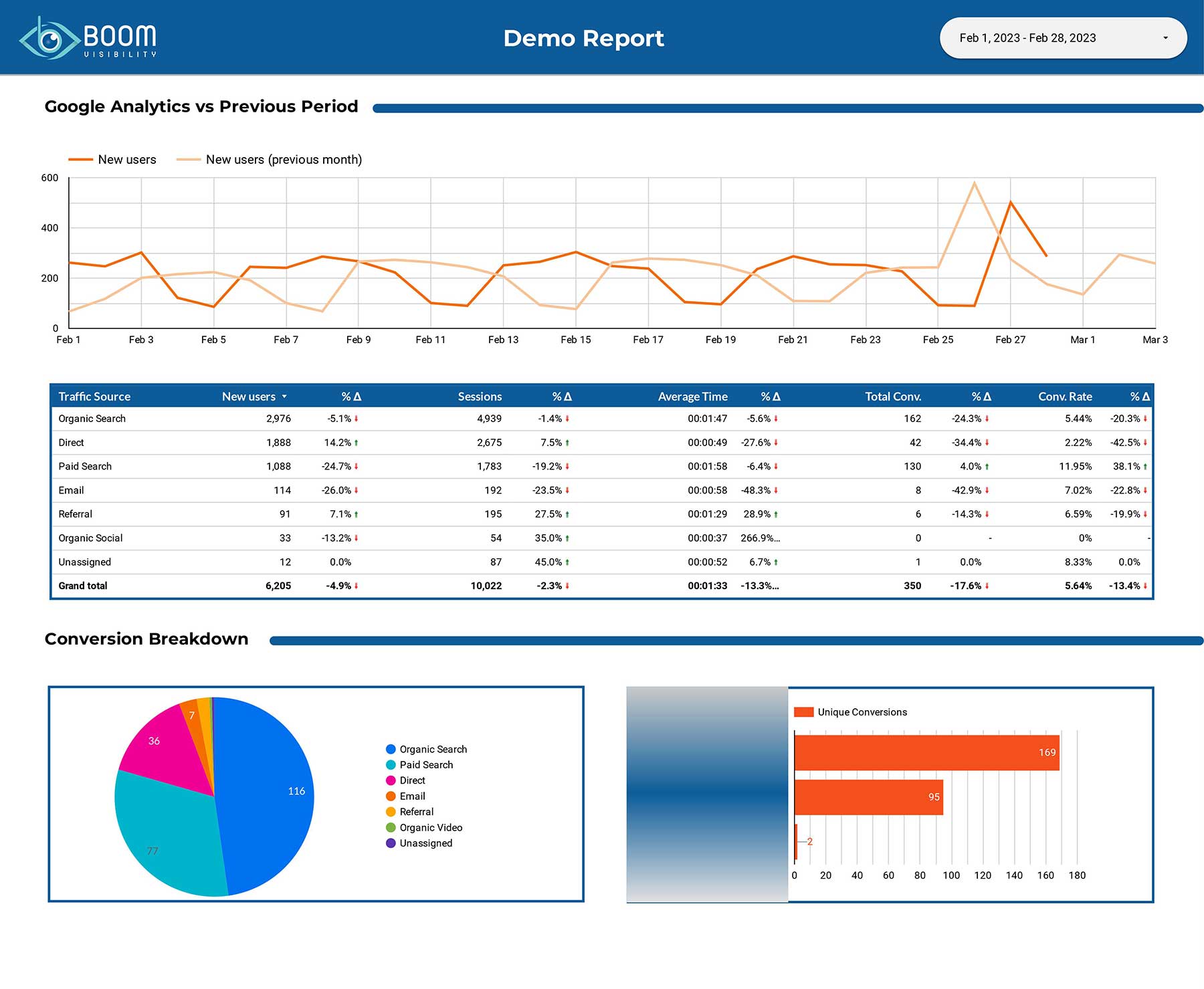 Looker Studio is a powerful tool for creating Google Analytics 4 (GA4) friendly reports that are easy to understand and analyze. Our goal was to create an all-in-one report that mimicked our UA reporting.
With Looker Studio, we were able to replicate UA reports that included the following metrics;
Traffic Source
New Users
Sessions
Average Time
Total Conversion
Conversion Rate
Comparison Metrics
But, we didn't stop there. We also added a PPC component for those with paid ad spend, a Rankings tab connected to the SEMRush API, plus a tailored Page Speed tab presenting both Google Page Speed and WebPageTest ratings.
PPC Analytics
Having a PPC section in Looker Studio is a great way to gain visibility into the spending and performance of your pay-per-click campaigns. This helps us manage your campaigns more effectively and track them across multiple channels or platforms. We can gain insights into conversions, ad spend optimization, and other key metrics.
Rankings Report
Boom Visibility makes use of the SEMRush Rankings Report by pulling it into a Looker Studio dashboard. This allows us to quickly and easily compare data for our client's websites on an ongoing basis. By having access to precise historical data on organic searches, we can assess changes in ranking over time and track progress that have been achieved from SEO efforts.
As an SEO Specialist at Boom Visibility, Looker Studio has been a critical asset in helping me achieve success for our clients. Its comprehensive data from Google Analytics, Google Ads, Search Console, and SEMRush has enabled me to create informed and data-driven SEO strategies that span multiple traffic channels.
Stay Updated
GA4 doesn't yet integrate with all of the same third-party programs that UA did, but Google continues to come out with native integrations that make it easier than ever to get the data you need. For example, CallRail is a software we use for call tracking and for a few months we were not able to integrate call data, but that has since changed. We should continue to see other software programs release documentation for connecting to GA4.
To stay up-to-date with Google Analytics 4 updates, click here.
---
Marc | SEO Specialist

Marc is a self-taught SEO pro who also has a background in web design. Before joining Boom, he managed his own SEO company and worked with many niches, ranging from personal injury lawyers to a unique eCommerce store that sold bat boxes (yep, you heard that right)! Marc loves SEO because of its complexity and it helps that he enjoys approaching it with an analytical eye.

Marc was born in the Philippines (where he lived until he was 4), but he's spent most of his life in Jersey City, NJ. Now he lives in Voorhees, NJ with his fiancée and adopted Pittie, Maya, who is also his "barklink" acquisitions expert. Marc and his fiancée love to travel and have most recently been to Montreal, Barcelona, Sitges, Paris, Palawan, Manila, and Lisbon, which happens to be their favorite place and future wedding venue.